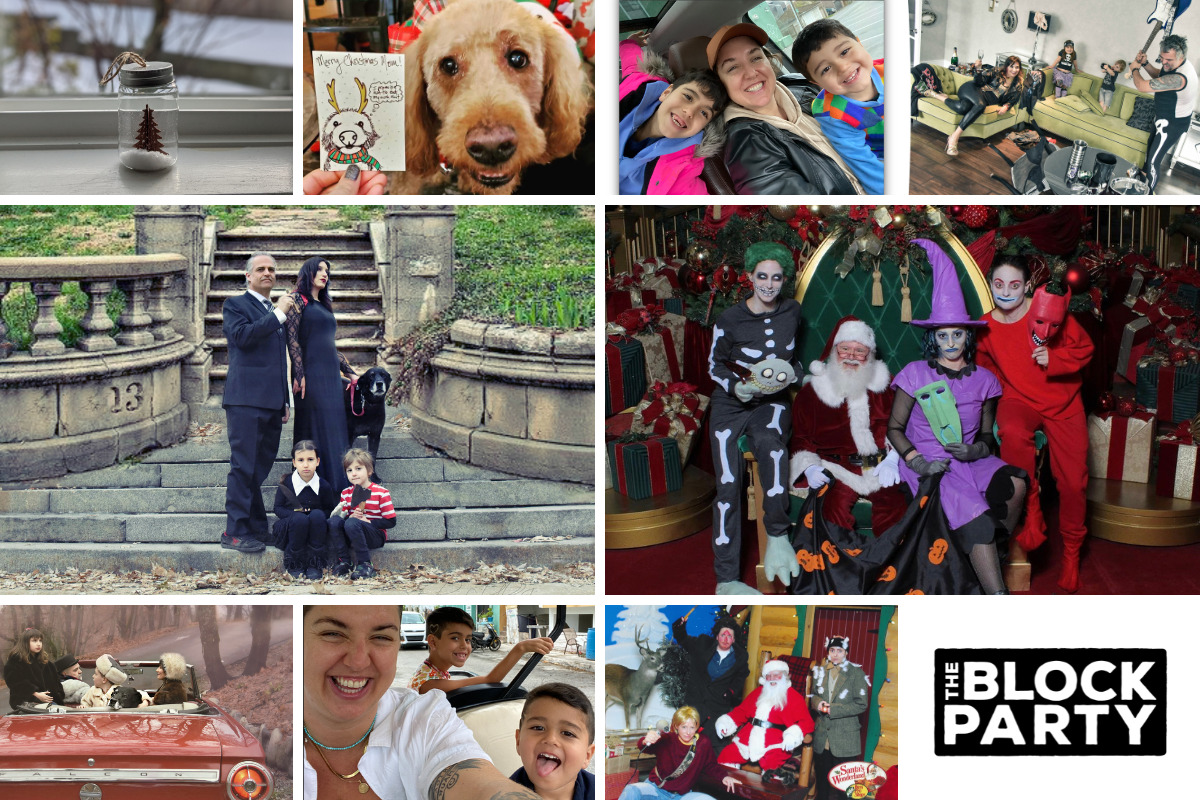 Family Photos, Feasts, Fiestas, and … Kidnapping Sandy Claws?
In the words of Valerie Rossi, "We're a lot weird and a little bit wacky," so we (Writer's Block Solutions; writers, editors, wacks) are bringing you holiday greetings with an extra sprinkle of creativity for 2022. Do you do anything weird, special, or unique as a holiday tradition? (And it doesn't have to be a cold and snowy tradition either — some might argue that the only holiday Kyla honours is All Hallows' Eve, and every holiday and celebration aside from that is an extension of the One Holiday to Rule Them All.)
We're gonna tell you about some of our faves. Tell us about some of yours! (We might even feature them on our socials, unless you ask us not to — don't worry, the title of Scrooge is already claimed below.)
IT'S A FAMILY AFFAIR
Val et al. go full tilt into a themed photo shoot with their dear friend and creative genius Danielle Labelle. While the early years (yes, Val speaks like she's ancient and her family's been doing this for decades) consisted of direction, unfortunately — for Danielle — the more they move forward on this annual tradition, the less they offer actual substance or solid ideas. But somehow, it always turns out fabulous.
"Really, I'm not surprised," says Val. "She does all the work, and we show up like spoiled actors with a chip on our shoulder, barely in costume or makeup."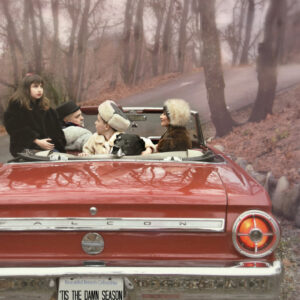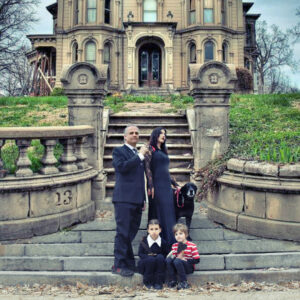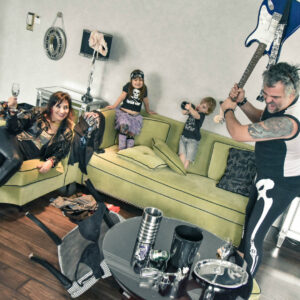 The money shot is formatted into a card and sent to hundreds of people across the country. In years past these creative collaborations have gifted the world with the Rossi version of the nativity scene, Addams' Family jewels, and metal rockers who trash hotel rooms. Of course, with their adorable children along for the ride, the Rossi fam continues to surprise and shock relatives, some well into their 90s. (The family motto might have something to do with surprises and shock keeping you young.)
Val wouldn't say more about this year's concept, but let us know that her ridiculous idea of tobogganing in bathing suits in -10°C was vetoed. Stay tuned! I'm sure she'll keep us posted as she enjoys her other favourite holiday traditions:
Drafting the annual Christmas letter

Tree hunting

Listening to Elvis Christmas on repeat
THE ONE HOLIDAY TO RULE THEM ALL
You may think that Kyla's just ripping off Val's family photo shoots with this next one, but you'd be dead wrong. Remember All Hallows' Eve? Yeah, so does she.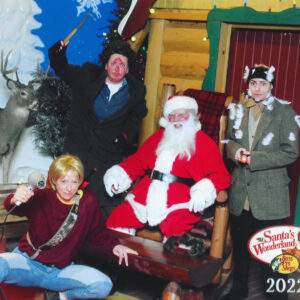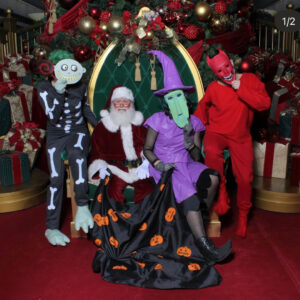 You've never seen pictures with Santa quite like this. 
In case it wasn't clear, holidays with Kyla include the following favourite traditions and activities, no matter the time of year:
Costumes

Gathering to feast (with libations!)

A cozy movie night after a day outside
Kyla has a pretty big immediate family and with her extended family growing every year — and friends and even strangers often being invited to feast as well — gathering for a holiday meal is always a raucous event. And if your idea of a 'cozy' movie isn't a horror flick, don't worry; Kyla truly doesn't discriminate when it comes to movie genres…or wine. 
MEET THE SCROOGES
Elise and her partner are so fiscally practical that most people consider them to be an entirely unromantic couple. (Seriously, how do you two work?) They don't do gifts for Christmas or birthdays, despite acknowledging and celebrating both. And if you ask Elise if she's decorated for Christmas this year, she'll probably show you a picture of this: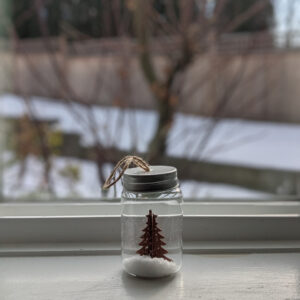 (You can fit all the presents you want under there if you stack 'em, I guess.)
But Scrooge McDuck is probably not the image you'd get by spending time with her and her family over the holidays. While they may not indulge in gift giving, indulging in quality time with family and food is definitely on the table. That usually means dinner with family. In her German Mennonite heritage, Grandmas make the best food, and they take that very seriously (though the grandkids now pitch-in to make it potluck-style). The most common refrain at holiday time is no longer "Merry Christmas!" but "Grandma, come sit!"
AUGURI DI BUON NATALE!
Speaking of food and family heritage, Sky and Co. (cousins aka cugini) put an Italian spin on holiday baking by making their Nonna Rosa's focaccia from scratch every Christmas Eve. Instead of caramel and gingerbread, they bask in the savory smells of rising dough and olive oil. Rather than cinnamon and sugar, they breathe in a medley of oregano, garlic, and stewed tomatoes (while avoiding the eye-prickling sting of chopped onions!). Then they share their focacc (pronounced fo-catch) with the rest of their extended family, adding to the annual feast of zuppa di pesce and other assorted seafood delicacies. Sky looks forward to this family gathering every year, looking back fondly on memories of playing WrestleMania with her older cousins, avoiding her Zio's cheek-pinching fingers, and smiling/grimacing through her Zia's questions about when she's gonna get married and have kids already.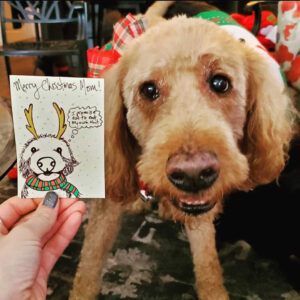 Sky's other holiday tradition favourites include:
Making silly Christmas cards for family and friends (focusing on pet portraits that may or may not point out their embarrassing habits)

Slurping coffee with Irish cream liqueur

Watching every holiday movie that exists (shoutout to

Home Alone, The Night Before, Krampus, Elf,

and

The Holiday

!)
¡FELICES FIESTAS!
The holiday spirit hits hard in a home with little kids running around. Becky's family does the typical Santa-based child magic making (though she will never do the elf on the shelf, that shit is creepy). Santa gets oat milk and some homemade cookies on Christmas Eve and the kids get spoiled rotten Christmas morning. With half of her children's heritage being Mexican, her family also celebrates Día de Los Reyes, a Mexican holiday on the 6th of January (see also: Magic Kings or Three Kings' Day). It's a day when the three kings that brought baby Jesus gifts will bring you gifts if you have been good. 
Becky's family likes to blend traditions to celebrate the way that they are: a beautiful mix of tradition, modernity, culture, and magic. Their holiday favourites are full of cheer:
Making cookies for Santa (and self)

Spoiling her children rotten with gifts

Visits to Mexican family

Learning about Mexican culture through tradition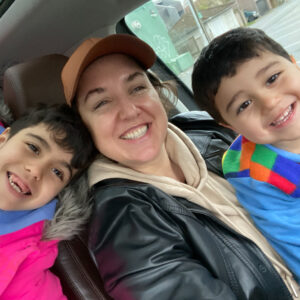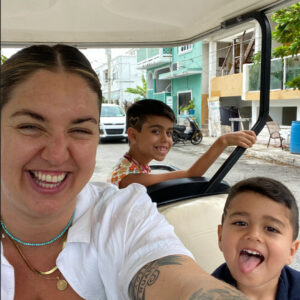 WE'LL SEE YOU ON THE OTHER SIDE
Our writers, editors, and wacks will be on holidays from December 22nd until January 2nd of 2023. Until then, relax and recharge, enjoy holiday cheer, and share your favourite photos and traditions with us! 
– The Block Party (Val, Kyla, Becky, Sky & Elise)