Jumping into the Marketing Strategy Ring: What the Heck is Integrated Content?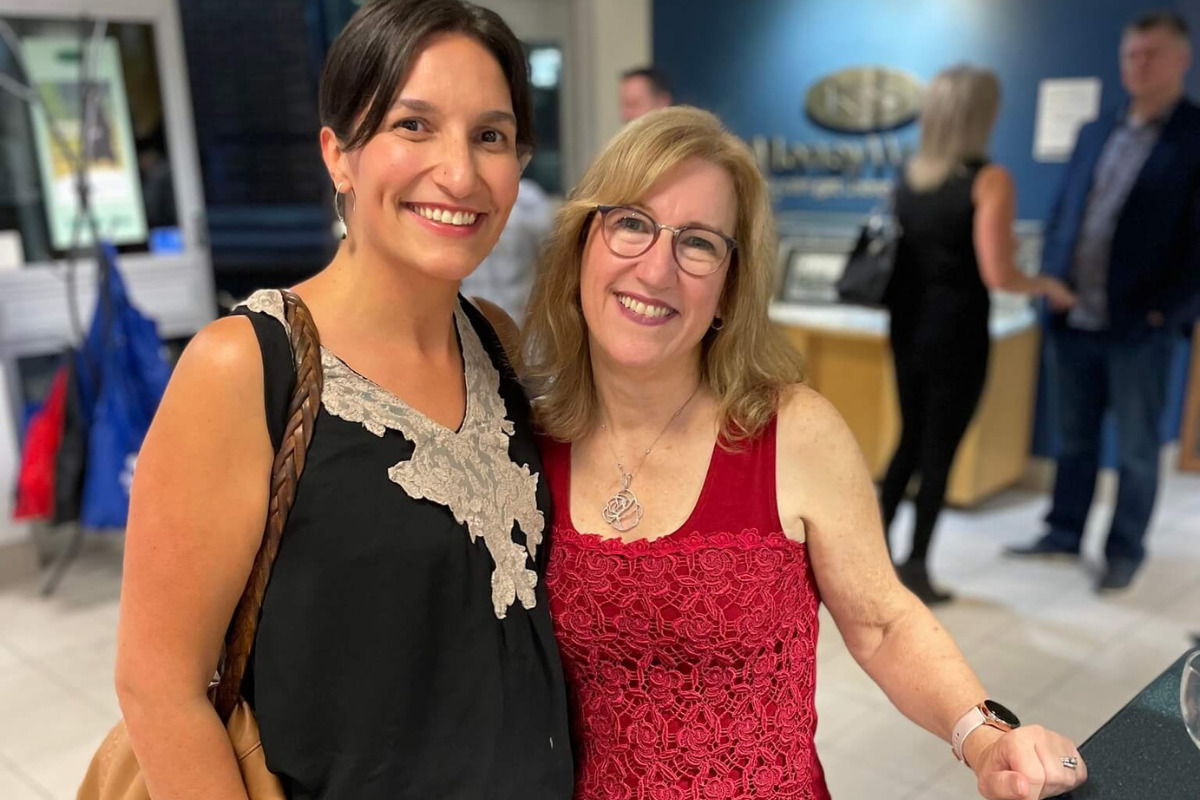 Valerie Rossi, journalist & founding maestro of Writer's Block Solutions mingles with Marlene Noel, former Trail & District Chamber of Commerce membership manager and executive assistant at a Trail & District Chamber of Commerce Business After Business event.
Integrated content means that a brand has blended and coordinated communications across multiple marketing channels to deliver a strategic, cohesive message. When done well,  the content will play out in perfect rhythm. Think Michael Moschen juggling on a grand stage — impressive and effective, right? 
JUGGLER EXTRAORDINAIRE: THE TRAIL & DISTRICT CHAMBER OF COMMERCE
In every communications consultation session, one of the first things we do together is identify your audience. Knowing the demographics and the wants and needs of your target audience ensures that you're not yeeting morse code across a vast, aloof ocean. 
The Trail & District Chamber of Commerce has been an essential resource for the South Kootenay business community since their conception in 1896. What started as a group of 45 businesses meeting to discuss "matters pertaining to the health of the city and its protection from fire" has grown to include five municipalities and over 300 member businesses. 
Identifying the audience for a single service or product is one thing. But when your audience is so varied and eclectic that you feel like you're trying to talk to everyone, how do you hone your message? How is the Trail & District Chamber of Commerce supposed to appeal to an animal hospital, an internet marketing company, the local farmers market, and even a boutique writing, editing, and communications consulting company — all at the same time? 
The answer: with an integrated strategy and absolutely killer content distribution.
I'LL HAVE A LITTLE BIT OF EVERYTHING
We worked with the Chamber to develop an integrated content strategy that leveraged both digital and traditional marketing channels. We produce content for their website, email newsletter, social media platforms (Facebook, Instagram, and LinkedIn), local newspapers (both print and online), radio advertising, and marketing materials, including for in-person contests, events, and initiatives. Sounds like a lot, right? But once we'd collaborated on a strategy that considered the organization's values and goals, confirmed content categories and potential topics, and took scheduling and responsibilities into account, it was easy to get rolling! 
In its simplest form, the project we call Chamber Stories works like this:
We conduct research and/or interviews to write a short article.

We format the article and submit it to one or more local newspapers (e.g. the

Trail Times

) for print publication.

We create a digital version of the article (adding relevant links) and post it to

the Chamber website's 'news' section

.

We write copy (including relevant tags and hashtags) for sharing the article on the Chamber's social media channels.

The Chamber includes an excerpt from the article in their monthly email newsletter, linking to the full article on their website.
Much like a master juggler, Chamber Stories has a number of balls in the air. Partnerships with local newspapers mean they promote ad sales to local businesses, whose advertisements surround (and pay for) the advertorial in the paper. But it's not always print — sometimes the content is published by online partners, such as The Rossland Telegraph or Kootenay Business Magazine. Sometimes an article details an initiative or contest that is also promoted on the radio (we've helped script spots for Bounce Radio in the past, for example). And sometimes content is reshared in event packages or other marketing materials. 
"Writer's Block Solutions helps the Trail and District Chamber of Commerce to convey relevant information about our organization to our members, stakeholders, and to the public at large in a form of monthly stories. Val and Kyla's professional, no fuss research and conduct makes the process seamless and enjoyable." — Erika Krest, Trail & District Chamber of Commerce Executive Director
Using a single article on a topic that is relevant and interesting to the Chamber's audience across multiple channels ensures that more people receive the message, and the Chamber gets to repurpose important content by reformatting it for more effective marketing.
THE BENEFITS OF INTEGRATING CONTENT LIKE A BOSS
Integrated content enhances the experience for your target audience, especially when you're trying to reach broader demographics. Some folks want to scroll on social, some are email subscribers, and some still reach for their local paper. Formatting your content effectively (and consistently) for multiple channels not only ensures your message is heard by increasing your reach, but can also encourage engagement with diverse segments of your audience. The person who writes a letter to the editor of the local newspaper isn't always the same person who chimes in when they see a related post on social media — but it could be!
So you're encouraging cross-channel interaction and ensuring a seamless and coherent user experience for your audiences with integrated content. But did you know that you're also contributing to better search engine optimization (SEO)? Strategic integrated content allows you to target relevant keywords and topics across multiple channels, and content that aligns increases your visibility in search results, helping users discover it more easily.
Finally, integrating content is, quite simply, an efficient use of resources. Investing time and money into producing strategic content that you can adapt and use across multiple platforms for a longer stretch of time just makes sense! Segmenting a single article or blog post into chunks for posting on social media and sharing via an email newsletter can stretch your messaging over a month or more, giving your audience time to engage with it, understand what you're saying, and develop a relationship with your brand.
JUGGLING'S NOT FOR EVERYONE — AND THAT'S OK
As our work with the Chamber has shown, these things don't happen in a vacuum. Expertly integrated content requires all the cogs in the machine to work seamlessly together. That includes the team of people behind each article, post, and press release. It's not possible without help — we're only one set of the many hands behind the Chamber's content ecosystem (shout-out to Ona and co. at Business Reach Marketing and Social Media!).
If trying to implement a marketing strategy makes you feel like a sloth trying to juggle, you're not alone. Chances are you've got your own career to manage without worrying about the marketer's job too, so reach out — ask for help! We're just a quick note away from jumping into the ring for strategizing, project management, and content development.