For Immediate Distribution: What the Heck Is a Press Release?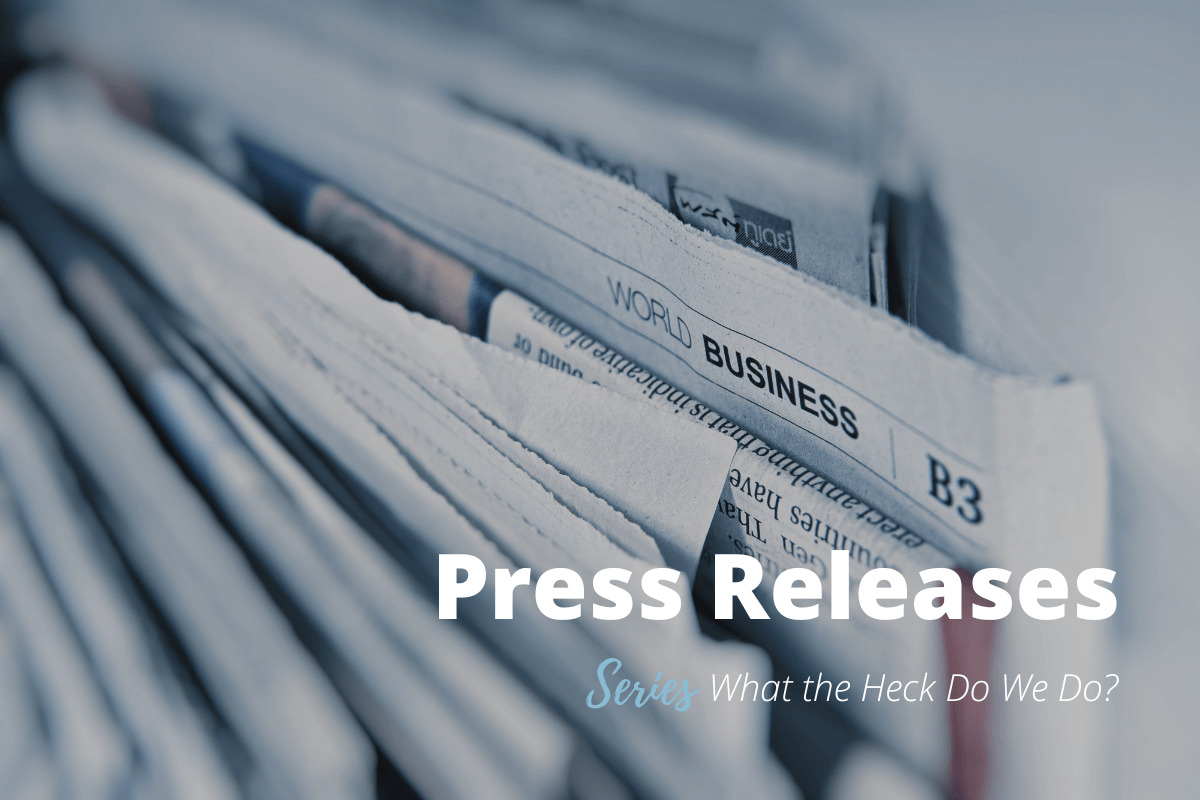 This post is a part of our services overview series, "What the Heck Do We Do?".
In the newsroom, a press release arrives via email, or sometimes even by fax or in person. If it's well written, it gets straight to the point and doesn't waste your time. The short catchy headline grabs your attention and the location listed confirms its relevance. You read on. 
The first paragraph hooks you with the news, attributed to an expert in the subject's domain. Your interest is piqued. In the final paragraphs, you learn why it matters to your audience and who it impacts; a couple of quotes add a final flourish. Your eyes dance across the page, already determining how to restructure the baseline for a story that could be rewritten with a lead that matters to your readers.
On the flip side, if you open up a press release that is wordy, confusing, and poorly written, your eyes spasm, sending a signal straight to DISCARD. A short skim and into the recycling bin it goes — that's how quickly decisions are made.
Often it's just one person deciding whether a submitted news release is going to make it into a publication. Having someone in your corner that knows what editors expect, what makes a good story, how to frame it, and who to send it to is invaluable.  
WHAT THE HECK IS IT?
Regardless of its angle, a press release sets off action that has a trickle-down effect from the writer to the reader to the doer. Inspired readers will follow up, triggered by the call to action, and attend the event, sign the petition, or research more on a subject. It is an age-old, powerful tool that can be incredibly effective.
Okay, it's not as old as the town crier; there's no one elaborately dressed in an 18th-century red and gold robe with white breeches, black boots, and a tricorne hat, ringing a bell and shouting "Oyez, Oyez, Oyez!" — but there might as well be! 
The press release dates back to 1906 and is credited to Ivy Lee. Ivy's agency was working with the Pennsylvania Railroad at the time of an accident. Rather than waiting to see how journalists would cover the story, he wrote up a release and proactively distributed it.
Being the first on the scene or in the know is exciting, whether you're drafting the news or receiving it. As a reporter first to get the scoop, you feel a surge of excitement, then quickly call the contact person to learn more. All the while, you're mapping out how you're going to pitch to your editor that the story deserves space in your jam-packed publication.
Instead of a spiffy outfit, it's the tightly composed headline and vivid or direct lead that gets people's attention. It's the news hook that underlines the subject with immediacy, told in the classic inverted pyramid style to cut to the chase. Nobody's got time for anything past four or five paragraphs. All the goods are packaged and delivered to consumers — in this case, thoughtfully selected publications — via email rather than by a flailing costumed corner-crier with a bell. 
KEEPING IT SIMPLE
We've given you some visuals, but let's make like a press release and get to the point. What the heck is a press release, what does it do, and how do you get one distributed?
Press releases announce news and build trust and authority on different fronts; they stimulate journalists and media outlets to cover your story and also give your prospects a new reason to visit your business or website, or find out more about an upcoming event or recent accomplishment. 

Getting published by multiple media outlets boosts awareness, SEO, and credibility. Strategic content increases your online visibility, helps grow your business or community, and/or positions you as an industry leader or subject matter expert.

Press releases are a great way to build relationships with the media, but this connection can take time. Working with writers and editors who already have relationships with news agencies — and are familiar with the required format and channels — speeds up this process and can lead to greater results.
HOW WE CAN HELP
We truly love building relationships with editors and reporters and we're always updating our distribution lists and adapting them to fit our clients' needs. Consulting on what might be newsworthy and finding other angles to a story are some of the ways we problem solve. And of course, we enjoy collaborating with parallel industries — especially those we have a history of working in.
While you may not catch us hollering out our clients' news in the town square, you can bet we'll be posting it to our social channels. Why? Because we love celebrating our clients and helping them get their news out to multiple audiences and channels. We truly believe in cross-promoting and harmonizing your marketing strategies.
A press release can spread its wings, going the news distance or launching into the public relations sphere. For the writer who picks it up, chews it up, and spits it out to an audience of hungry baby birds, it's a remarkable snack-turned-meal. A well-crafted press release can evolve into an in-depth, interesting, and informative story that has a reach far beyond local news.
As journalists writing news (we've been on that side, too), that same elation occurs when a story is picked up by a wire service like the Canadian Press and made readily available to news outlets across the nation. Often, a good headline (see title) makes a world of difference — because that's how editors skim content on the wire. When you see that your story appealed to the masses, that you made a case that other news outlets should care, and other publications across the country picked it up, that's something to be celebrated.
Our premium press release service includes distribution to local and/or specialty news and media, taking care of project management so our clients can focus on responding to news inquiries while we work behind the scenes. And when you get that call, it's exciting! Not only did they like your story, but they also liked your pitch, and they want to learn more. If you've got news to share, we'd love to help you craft your message. Contact us to get started by booking a complimentary 15-minute call. (Extra points for wearing your best town crier costume.)
-30-