A Recipe for Collaboration: What the Heck Is a Discovery?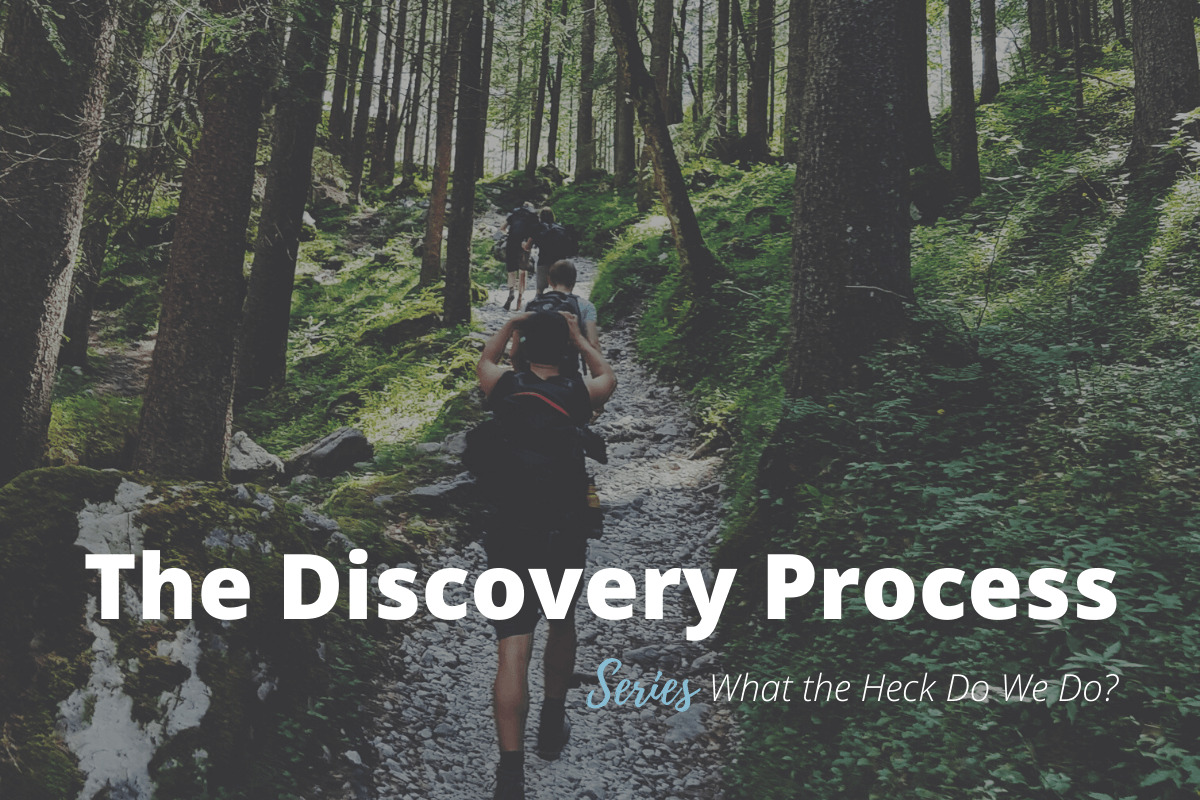 This post is a part of our services overview series, "What the Heck Do We Do?" 
Telling a story — especially your story — might seem easy at first. Once upon a time, there was a WHO, WHAT, WHEN, WHERE, WHY and that's how we got here today. The End! 
But when it comes to actually writing it down or saying it out loud, maybe something doesn't sound quite right. Or people end up asking questions that you thought you'd answered when you first told the story. Telling your story in an engaging, effective way for your audience, customers, or clients can be extremely difficult. You know who you are, you know what you do, so why can't you say it in a way that makes sense?
As writers, editors, and journalists, we understand how challenging it can be to write or talk about yourself. We are naturally curious people, so digging into the details of who you are and why you do what you do is our jam. We love hearing your stories! And we believe that getting to know you is the best way to draw people in and get them asking the right questions.
What the Heck Is It?
Our Discovery process makes our approach unique, thorough, and effective. (See also: fun!) Engaging in a Discovery will help you clearly define your goals and audience, and provide you with a framework for future communications. The best part is, it will save you time and energy!
So, What the Heck is a Discovery? We'll break it down for you in three steps.
Step #1: Let's Chat!
The Discovery starts with a video conference call to gather some more intel on your current and aspirational audience, your main communications goals, and the key messaging you'd like to include. At this meeting, we'll discuss what you're currently doing, as well as anything you've tried in the past or are interested in exploring in the future. You can usually expect at least two of our team members to be present for this deep dive into your company values. We'll also collect any of your branding resources so that we can get a comprehensive picture of where you are, where you'd like to be, and how we can help you get there. 
Step #2: Getting to Work
Once we've asked all the questions and had the chance to review your answers, our team will put together a Discovery document that will act as your North Star. This document will define your audience's wants and needs and guide you in communicating with effective messaging that speaks directly to them. It will note your visual branding guidelines, such as colours and fonts, and make any necessary recommendations on best practices. It will also include communications recommendations, processes, and an outline of how we will work as a team.
Step #3: Let's Collaborate!
After we draft the Discovery document, we'll share it with you and any other stakeholders you'd like to include. We open this up as a live document for your review and feedback. Although we like to work collaboratively within Google Docs, which is a fairly simple and intuitive process that we can walk you through, we can also schedule an additional meeting to talk it out if that's what you prefer. 
Where Do We Go From Here?
By the end of the Discovery, you'll have a clear and consistent outline of your brand, presented in a single document that is easy for you (and us!) to reference when deciding how to communicate with your audience. We tailor this document to meet your goals. If you want to focus on improving your social media presence, blog posts, or website copy, it'll be in the document. If you need help with content and schedule planning for your weekly or monthly newsletter, we'll have ideas and recommendations to share. If you're not sure precisely what you need, the Discovery process is a great place to start, and will give us a clear path forward. 
After that, it's up to you! Once we know your story, we'll be well equipped to tailor content that comes from the very heart of your brand. There's nothing we love more than working collaboratively to empower you to share your story and enhance your brand recognition. 
Discover your story — get in touch today!