What the Heck Do We Do? – Our Services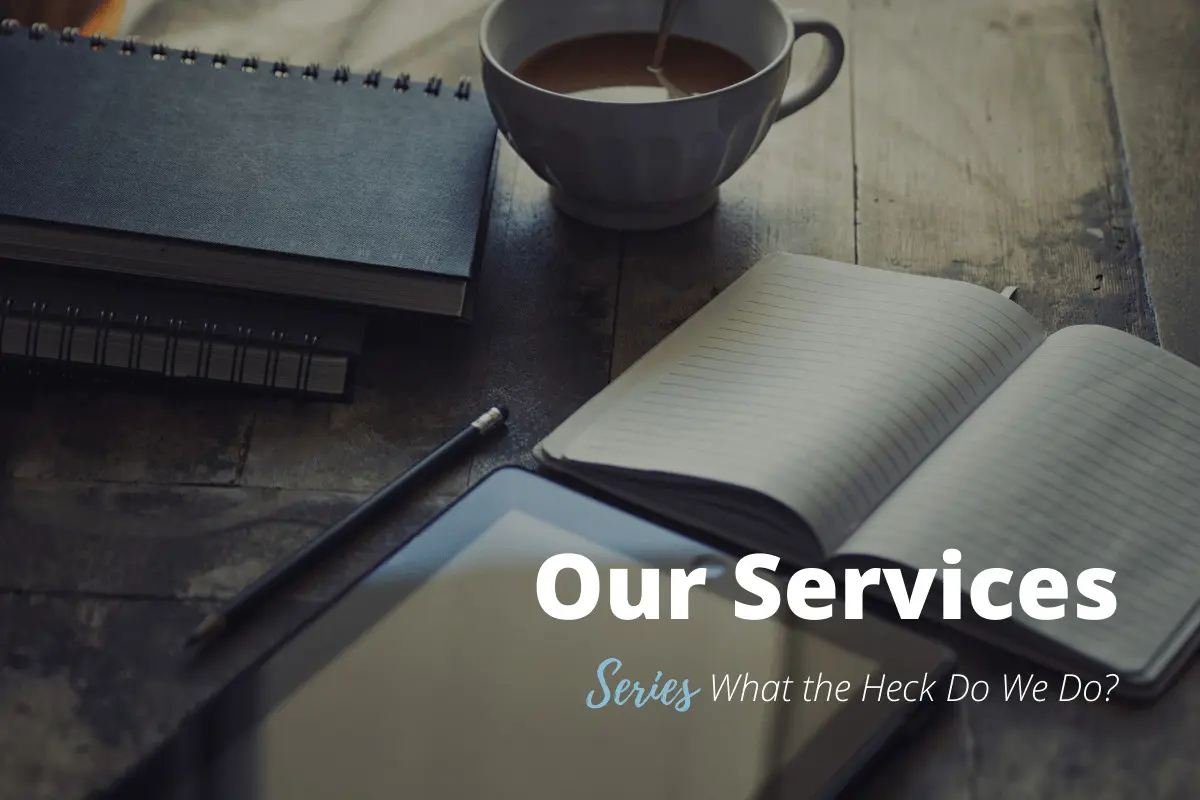 This post is a part of our services overview series, "What the Heck Do We Do?"
If you've ever stared at a blank page at a loss, contemplating how to best describe your business or how to engage your audience, you're not alone. That empty canvas with the blinking cursor is a universal foe for writers everywhere. Somewhere along the way, you've probably heard that "writing is a solitary journey." So, you sit down in front of your blank page, with your door closed and your phone set to do-not-disturb, and you get started.
But what do you do when the words just don't come? Maybe you force out some bullet points and call it a day, or you start to research tips for writing and get sucked into a rabbit hole of distractions. Often, you may close the page and decide you're just not cut out for writing at all.
Writer's Block Solutions is a team of storytellers who love to collaborate and partner with businesses, professionals, entrepreneurs, and individuals looking to make an impact. We've helped our clients reach a wide variety of goals by telling their stories—so they don't have to subscribe to a lonely, solitary writing journey at all.
Our Services
Our goal is always to get to know you. 
What hopes do you have for your communications? Are you looking to define and position your organization as experts or industry leaders? To build and maintain brand awareness and a social media following? Maybe you're looking to educate, inform, or attract your audience; or to communicate your purpose, goals or achievements. Regardless, you probably want to be sure that all your communications—including internal and external media, and marketing initiatives—are clear, effective, and on brand.
Our backgrounds in journalism and English help us investigate your needs and produce polished, professional writing that authentically delivers your voice and messaging.
Discovery
We like to start with an in-depth discovery process, where we ask strategic questions to learn about you and/or your business. This helps us understand your purpose, desires, and audience, as well as pinpoint your voice and tone. 
We want to know:
Who your customers are and what they want

Why your customers choose you

What you specialize in

What sets you apart from your competitors

What feelings you want your language and tone to evoke

What challenges you have in getting your company's message and personality across

Why you are investing in this area of your business right now
With this intel, we are well-equipped to help you action your communication goals, whether that's through writing, editing, strategizing, brainstorming, or any of the other services and deliverables listed below.
Writing & Editing
High-quality content is key, and business people from all fields are seeing the value in effective communications. While spelling and grammatical errors can make you look careless or unprofessional, it doesn't stop there. Producing a polished product will set you apart from your competitors. Communicating with fun, unique language or humour can do the same. We work with you to refine your copy and develop a voice that resonates with your audience. We're experienced in writing, editing, and proofreading everything from large documents to single-or-half-page ads or small marketing blurbs.
We specialize in:
Consulting & Research
Maybe you already have a great team of content writers and editors, but you're struggling to give them direction. Or perhaps you need to get your message out, but you're not sure where to start.
We provide consulting and research services on communications strategies. We like to start with a discovery to audit and analyze your current platforms and content strategies, so that we make recommendations based on content format, posting schedule and frequency, branding, audience, and industry best practices.
Our main areas of expertise include: 
Packages
If you have a specific project in mind that includes one or more of the services detailed above, or even if you're dreaming up something else entirely, we'd love to create a package that suits you. Before we get started, it's important for us to develop an understanding of your goals and objectives so we can tailor the right package; typically this requires a Discovery.
If you don't see what you're looking for here, that doesn't mean we don't do it! Our enthusiasm for learning about you and what drives you is earnest; the time we take to truly understand our clients is what sets us apart.
If you have a unique idea or need help generating ideas, creativity and brainstorming are right up our alley, so please get in touch. Let's put our heads together and get to the heart of the story.