Getting to Know You: A Date with the Discovery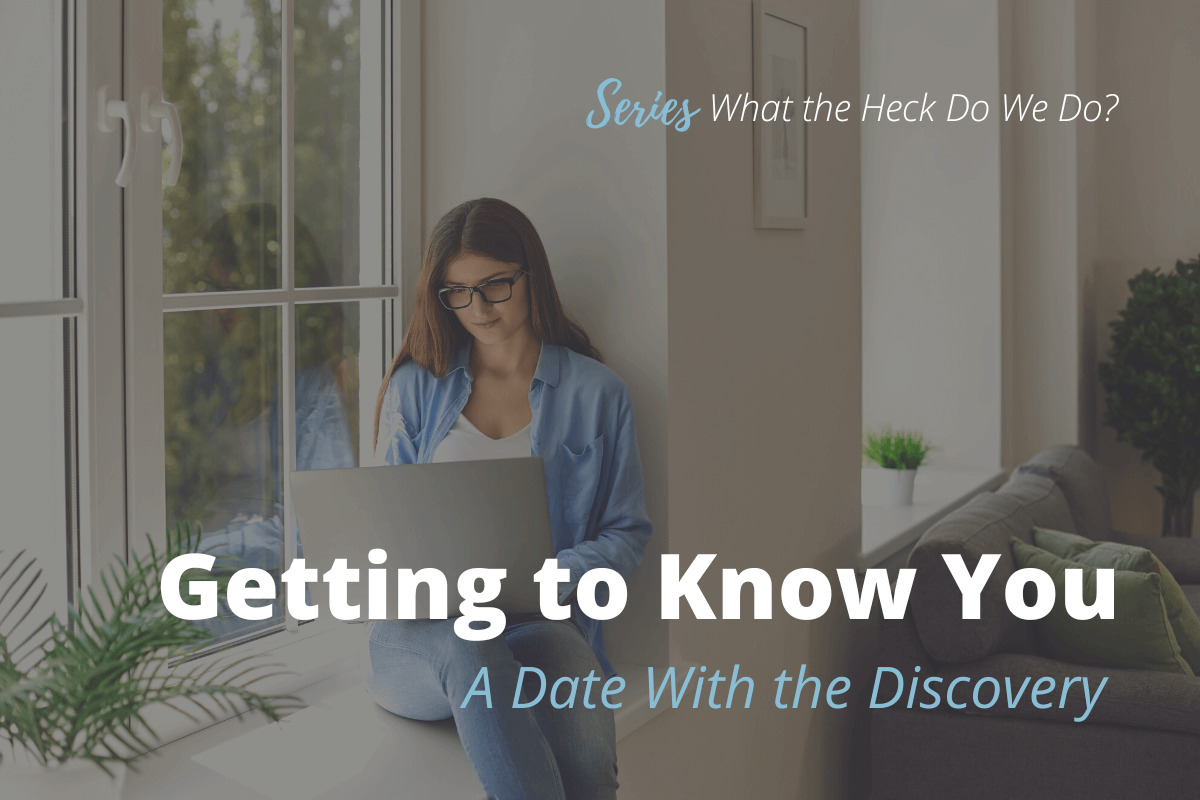 This post is a part of our services overview series, "What the Heck Do We Do?". If you're wondering, "What the heck is a Discovery?" refer back to this post.
Think of the Discovery Process like a blind date for a platonic business relationship (minus first-date awkwardness because we are professionals). You step into the room — or in this case, hop on the video call (we're just fine with long-distance) — and we start asking you some questions.
Who are your clients and what do they want?
What sets you apart from your competitors?
What challenges do you have in getting your company's message and personality across?
Now, before you start envisioning a bad game of 20 questions or descending into nightmarish flashbacks of office ice-breaker parties,  let's take a peek at a few of our favourite Discovery questions to give you an idea of what we're getting at.
Defining Your Purpose
Why are you looking to invest in this area of your business right now?
Clean-Scene DKI had some specific information they wanted to convey to their audience, but they needed help effectively communicating. In other words, they knew what they wanted to say, but weren't quite sure how best to say it.
Clean-Scene DKI is a family-run business in the cleaning and restoration industry. In addition to answering some commonly asked questions and clarifying their process, Hannah was looking for ways to differentiate their established business from a newer company offering similar services in their area.
"Writer's Block Solutions made sure they understood my needs for our website and created beautiful content," says Hannah. "I really enjoyed the ease of working with them. All they needed from me was the points I wanted to get across and they did the rest!"
Using the information Hannah gave us, we refreshed Clean-Scene's website copy in a way that made it easy for homeowners under extreme stress to contact the company and get the help they needed. Clean-Scene's experience, training, certifications, and empathy were what set them apart. Once we established who their audience was, what their problems were, and what they needed to know, we were able to write copy that clearly and thoughtfully communicated information to their clients.  
Clarifying Your Vision
What three words would you use to describe your values/business?
This question is as much for us as it is for you. Unless you're at a job interview or therapy, you probably don't often get asked to define your values in three words.
Now, clearly, we're not licensed therapists. So what's up with the question?
Karen and Al run a full-service company for RVs that offers parts, mechanics, and maintenance services. They're dedicated to their community and chose the keywords: honest, reliable, family-feel. They wanted a website refresh that would continue to serve their customers with the warmth and simplicity they'd come to know and love.
"

Val and Kyla truly showed they cared about our company's vision and took all the information we supplied to heart. We are pleased that their words represented our company completely. Thanks for putting our vision into words. —Karen Galloway
It was important for Karen and Al to have their website accurately reflect their business values. In Al's case, he prized honesty above income. His mantra: "If it ain't broke, don't fix it." You wouldn't catch him pushing a sale just because it was going to make him some extra cash — it had to be worth the cost to the customer.
This is part of what someone means when they say, "That doesn't sound like me." We don't want to get this part wrong! Your values inform your communication style. The better we understand them, the better we can help you convey those values across all your platforms.
Identifying Your Audience
Who are your clients/customers and what do they want?
Occasionally, you come across people whose vision, purpose, and motivation aligns so spectacularly with yours, you wonder if the universe meant for you to work together.
"Our goal is to ultimately inspire and impact our audience to reach their highest potential through storytelling," says Lauren of The Prevail Project. "Writer's Block is not just a service, it is a collaboration that I find personally fulfilling and proud to be a part of such a fun, energetic team."
We felt the same way working with Lauren and her team, and resonated with many of the women interviewed for their Q&A series. In a sense, we were a part of the audience The Prevail Project wanted to reach, and that made our job easier. But it also made it incredibly fulfilling. Storytelling is the heart and lungs of what we do and they were using storytelling as a tool to engage their audience.
"

Writer's Block is the backbone of our interviews. I have been fortunate to work with these incredibly smart, dedicated, passionate women since my company's inception. Words that speak truth, they understand the company's vision, mission and voice to effectively capture and communicate some of the real, raw challenges and triumphs women face in their careers and lifestyles. —Lauren Carbis
Your audience is so often the foundation of your communications. A message can be conveyed in countless ways, but it will only land with certain people if it's told with them in mind. Who are you talking to? Who do you want to reach and impact? What are they looking for and how does your business meet their need(s)?
You got some bonus questions there, but that just goes to show that we have to adapt our language and dive deeper when it suits your needs as well. When you're walking through a Discovery with us, if a question doesn't fit your style or doesn't make sense to you, we're happy to reframe or rephrase it into a context that works for you.
Developing Your Language & Tone
How do you want to come across?
"

Initially, I was hesitant as I didn't want the copy to not sound like me. But the team really took the time to get to know me and what my needs were and I am SO happy with the final product. —Keyrsten McEwan
It's one thing for us to paraphrase what we think you want to say. It's another for us to actually say it — in your voice, with the exact tone that you'd use. That's what these questions are for.
Keyrsten asked us to help refresh her website copy. As a Registered Holistic Nutritionist, she has to get to know her clients well in order to help them. In turn, she wants her clients to have a clear idea of who she is from the first interaction they have with her.
Whether a client meets you via your web copy or in person, you want them to feel as though they've met the real you. This is especially true for people and businesses who provide services. The last section of the Discovery document focuses on developing your language and tone for this very purpose. 
This section is populated based on your answers to all the questions up until this point. It includes language around how you want to refer to yourself (first-person or third-person pronouns, job titles, names, nicknames, company acronyms), taglines and slogans that align with your values, and even words or phrases that you'd like to avoid in your communications. 
That's All, Folks!
Aren't you ready to buy us a drink after all that?
There's no expectation for a second date — we promise. Some clients take the Discovery and run. That's all they need! Others want to go a little further.
Once we've gone through the Discovery together, you can be confident in our ability to help you communicate with your audience effectively and genuinely. We offer a range of services beyond the Discovery, and we're happy to collaborate on getting your story out there. Get in touch!